Happy Monday! Not too much going on with coffee in the news, but here's a few interesting things: Dunkin' Donuts announced the arrival of their fall lineup, Starbucks announced the addition of 2 new items to their Pumpkin Spice grocery product offerings, and The Coffee Bean & Tea Leaf's annual Support At Home campaign to support military families returns.
Starting August 28th, Dunkin' Donuts will be bringing back their seasonal pumpkin favorites (pumpkin flavored coffees and lattes, glazed pumpkin cake donuts, and pumpkin spice muffins topped with sweet streusel crumbs and white icing) and adding a pumpkin cream cheese spread made with real pumpkin. In addition to all this pumpkin goodness, Dunkin' is mixing it up a bit this year by adding a line of Maple Pecan items to their fall menu, including sweet and nutty flavored Maple Pecan coffees and a Maple Sugar Bacon Breakfast Sandwich ( a croissant egg sandwich with a double portion of sweet caramelized Maple Sugar Cherrywood smoked bacon). They are also adding the Festive Fall Donut to celebrate the colors of the autumn season with red icing and orange and chocolate sprinkles. Dunkin' Donuts Pumpkin flavored coffee will also be hitting grocery shelves in both bag and K-Cup forms. – Dang, Dunkin' Donuts is really bringing it this fall season; I'm impressed.
We thought @dancepumpkinman would be the best person to deliver the news…Pumpkin's coming back 8/28/17! 🎃 pic.twitter.com/mgEg8yKMZg

— Dunkin' Donuts (@DunkinDonuts) August 14, 2017
Starbucks is still keeping the return date of their much anticipated Pumpkin Spice Latte close to the vest, but they have announced the arrival of two new Pumpkin Spice grocery items – Ready-To-Drink Pumpkin Spice Latte, coming later this month, and Starbucks Flavored Pumpkin Spice Flavored Ground Coffee, available now. These new additions will be joining the returning Starbucks Pumpkin Spice grocery items – Starbucks Pumpkin Spice Caffe Latte K-Cup Pods, Starbucks Iced Espresso Classics Pumpkin Spice Latte, Starbucks VIA Instant Pumpkin Spice Latte, and Starbucks Pumpkin Spice Frappuccino Chilled Coffee Drink – bring the grand total of Starbucks Pumpkin Spice offerings to six. – Just my humble, admittedly enamored with Pumpkin Spice anything, opinion, but I think Starbucks may want to lay off the Pumpkin Spice products a smidge.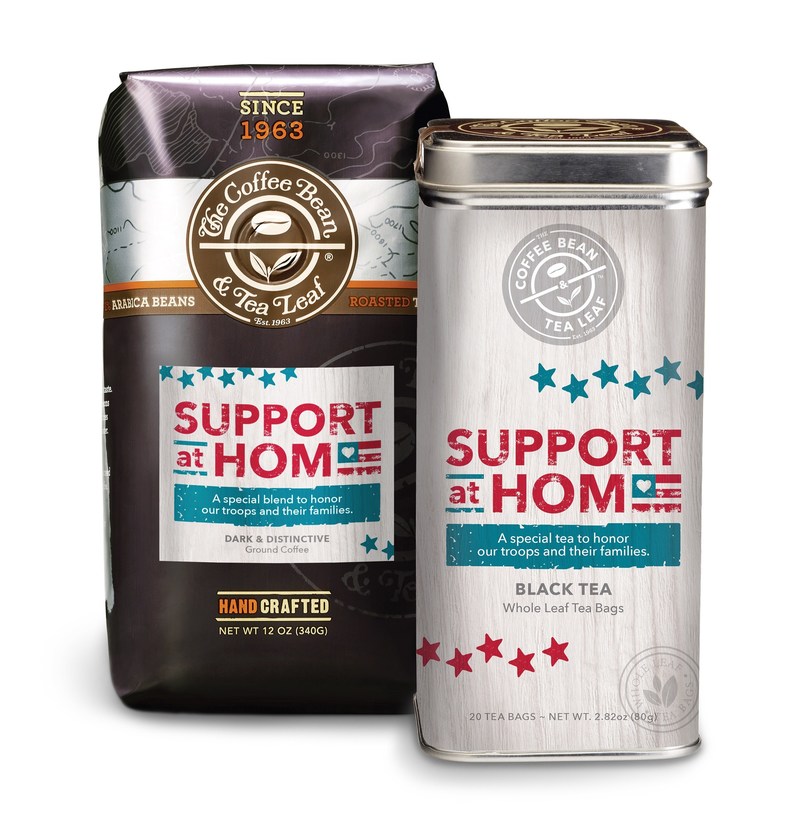 Starting today and continuing until September 17th, The Coffee Bean & Tea Leaf is partnering with Operation Homefront, "a national nonprofit that builds strong, stable, and secure military families so they can thrive in the communities they have worked so hard to protect", for their annual Support At Home campaign. During the campaign, customers who purchase the special edition Support At Home Ground Coffee or Tea can choose to donate a Support at Home Ground Coffee bag and/or Support at Home Tea tin with a custom message to an Operation Homefront family, or keep the product and donate $1 from the sale instead. The Support At Home Ground Coffee is a dark roast made from a combination of Sumatra and Brazil coffee beans and comes in a 12 oz bag and the Support At Home Tea is made from 100% Ceylon black tea leaves and comes 20 teas bags in a tin. Both are available in stores and online and retail for $9.95.